Regular price
Sale price
$89.99 USD
Unit price
per
Sale
Sold out
Prepare to meet your new huggable best friend - the 4ft Giant Teddy!

From its impressive size to its irresistibly soft fur, the 4ft Giant Teddy is sure to bring joy, comfort, and endless snuggles into your life.

The Story Behind the Giant Teddy
In a magical workshop nestled deep in the heart of a teddy bear village, skilled artisans came together to create the 4ft Giant Teddy. With love and dedication, they meticulously crafted a plush companion that would capture hearts around the world. The Giant Teddy was born, ready to spread happiness with its immense size and lovable charm.

Benefits of Cuddling with a 4ft Giant Teddy
Cuddling with the 4ft Giant Teddy offers a multitude of wonderful benefits that extend beyond its adorable appearance. Let's delve into the delightful advantages of embracing this giant plush companion:
Unmatched Comfort: The 4ft Giant Teddy provides an unparalleled level of comfort with its plush, huggable body. Snuggling up with this giant teddy is like being wrapped in a warm and cozy embrace.

Stress Relief: Embracing the giant teddy allows you to release stress and tension, as it provides a soothing and calming effect. Its immense size gives you a sense of security and tranquility.

Decorative Statement: The 4ft Giant Teddy serves as an eye-catching decorative piece, adding a touch of whimsy and charm to any room. It becomes a conversation starter and a centerpiece of joy.

Memorable Gift: Whether it's a birthday, anniversary, or any special occasion, the 4ft Giant Teddy makes a memorable and heartwarming gift that will be cherished for a lifetime. It's a gift that truly stands out and creates unforgettable moments.


Features That Make the 4ft Giant Teddy Irresistible
The 4ft Giant Teddy possesses a range of features that make it an irresistible companion. Let's explore some of its captivating attributes:
Impressive Size: Standing at a towering 4 feet tall, the Giant Teddy becomes an instant attention-grabber. Its size makes it a true centerpiece and an object of fascination.

Super Soft Fur: The Giant Teddy boasts luxuriously soft fur that invites you to sink your fingers into its velvety plushness. It's a tactile experience that brings comfort and joy.

Adorable Details: With its endearing face, cute button eyes, and soft paw pads, the 4ft Giant Teddy exudes charm and sweetness. Its expressive features are sure to melt hearts.

Premium Quality: Crafted with meticulous attention to detail and using high-quality materials, the 4ft Giant Teddy is built to last. Its durable construction ensures years of snuggles and companionship.

How to Clean Your Giant Teddy Bear
Keeping your Giant Teddy clean and fresh is essential to maintain its huggable appeal. Follow these simple steps to ensure your giant teddy stays in pristine condition:
Surface Cleaning: Regularly brush the fur of your 4ft Giant Teddy with a soft-bristle brush to remove any surface dirt or dust. This helps keep its fur looking clean and fluffy.

Spot Cleaning: For small stains or spills, use a mild detergent or fabric cleaner and a soft cloth or sponge. Gently blot the affected area without rubbing, and let it air dry completely.

Deep Cleaning: If a deeper clean is necessary, consider using a fabric cleaner specifically designed for plush toys. Follow the instructions provided by the cleaner and take extra care to avoid saturating the toy.

Drying: After cleaning, gently squeeze out any excess water and reshape the 4ft Giant Teddy to its original form. Place it in a well-ventilated area to air dry completely before resuming snuggle duty.

Size Chart:
| Centimeters (cm) | Inches (in) | Feet (ft) | Meters (m) |
| --- | --- | --- | --- |
| 100 | 39 | 3'3" | 1m |
| 120 | 47 | 3'11" | 1.2m |
| 140 | 55 | 4'7" | 1.4m |

Height: Right angle 1 meter. Full length 80 cm [Upgraded card writing + free rose + color bag] Right angle 1.2 meters. Full length 1 meter [Upgraded card writing card + free rose + color bag] Right angle 1.4 meters.

Packing list:
Plush toy X1
Share
View full details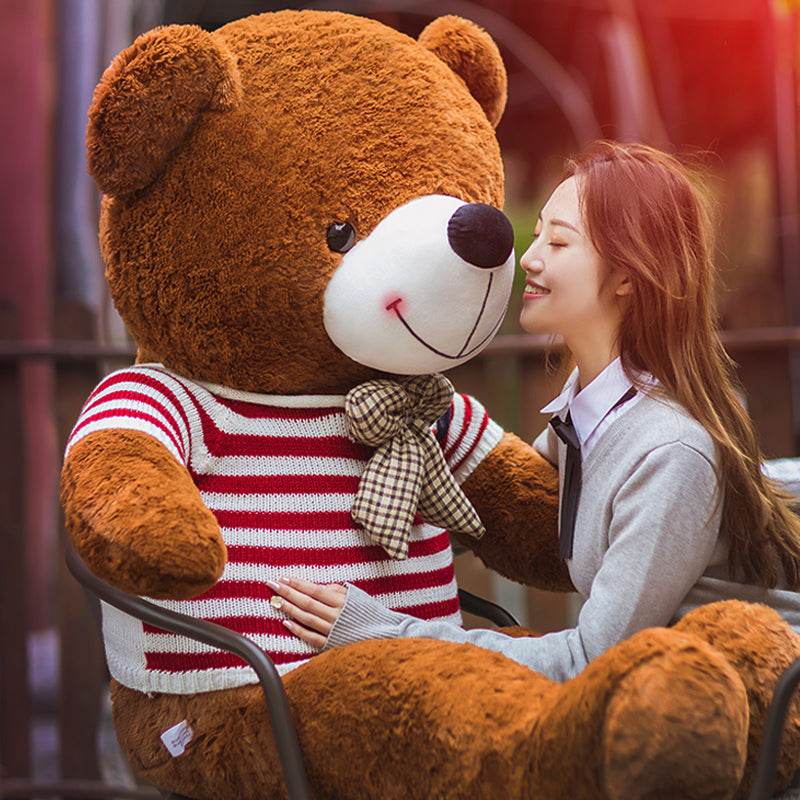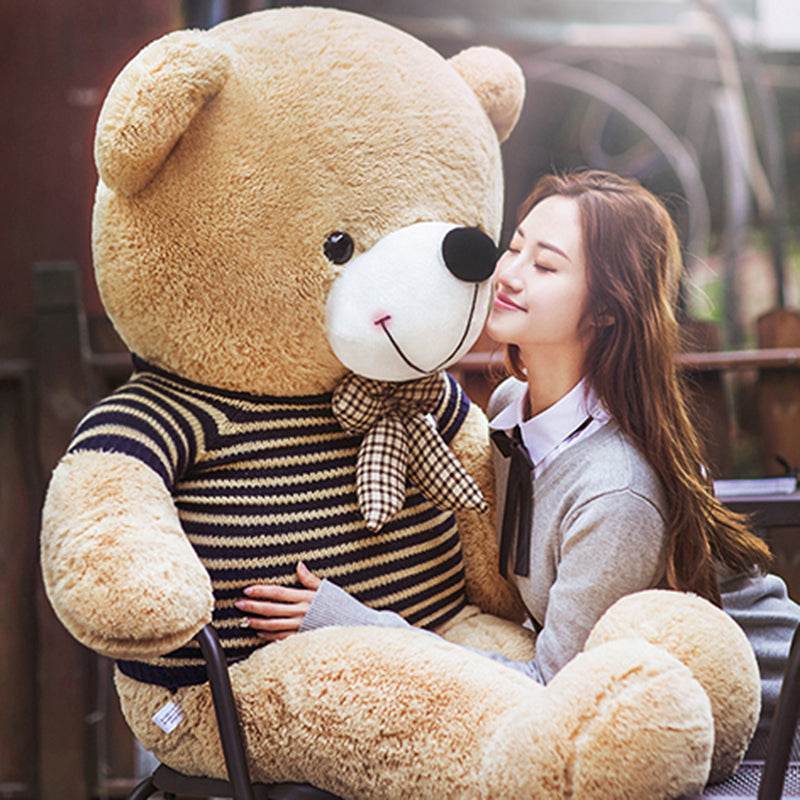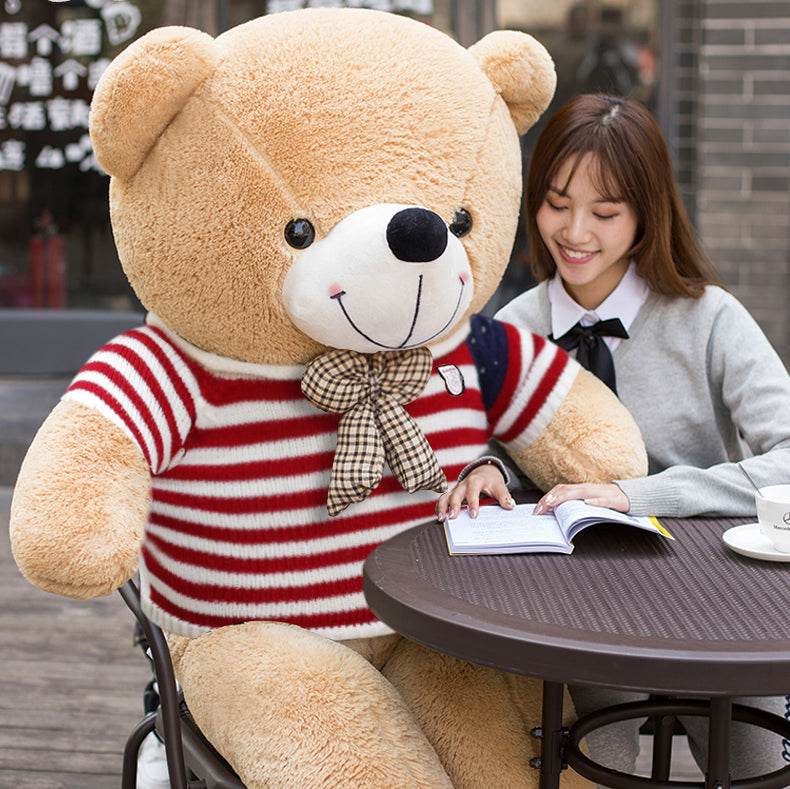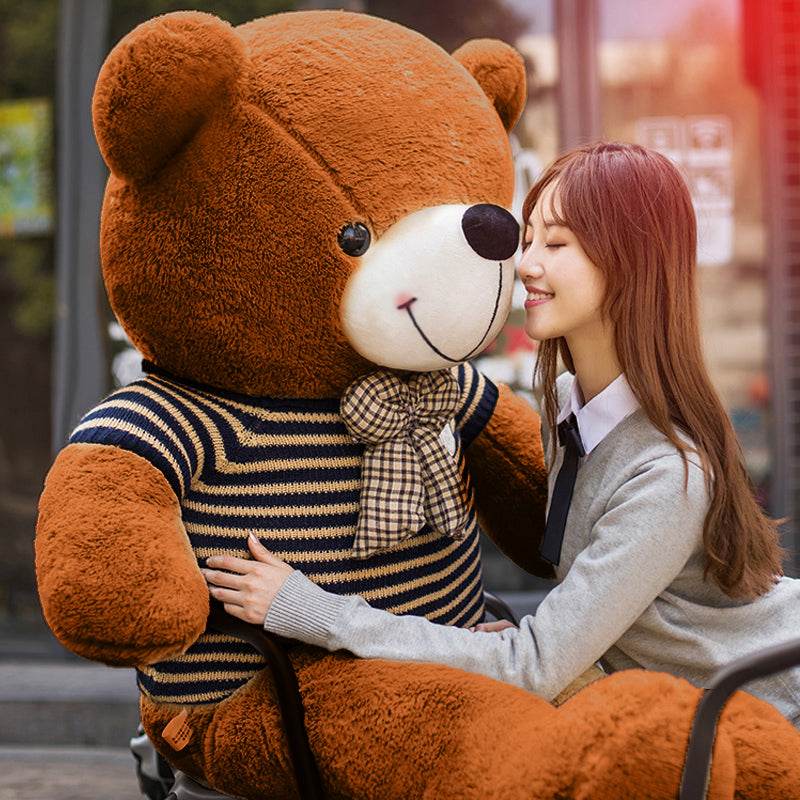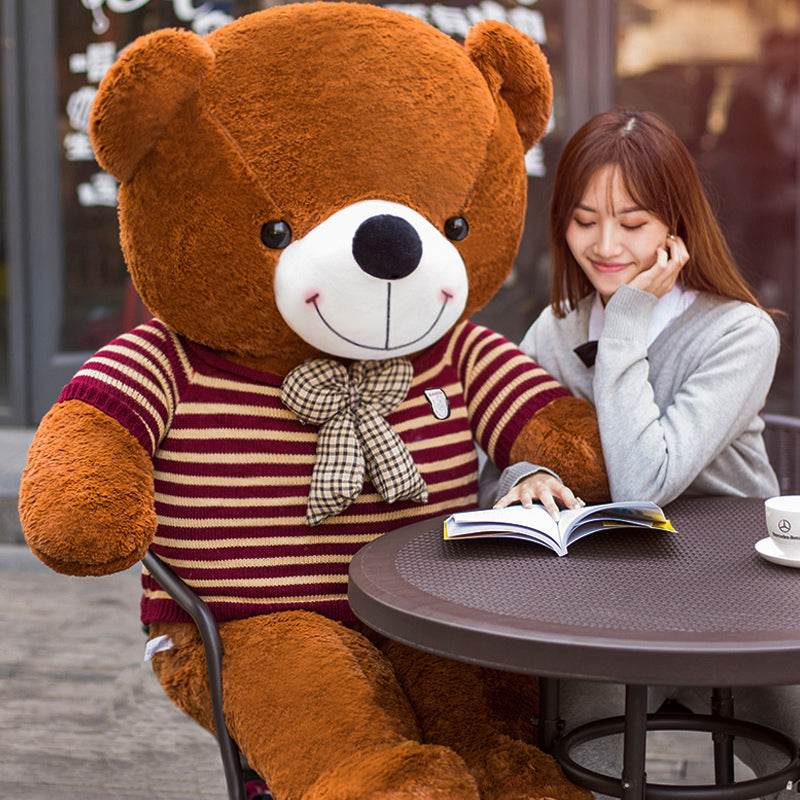 Meet Your New Furry Best Friend
What Makes Our Teddy Bears So Special?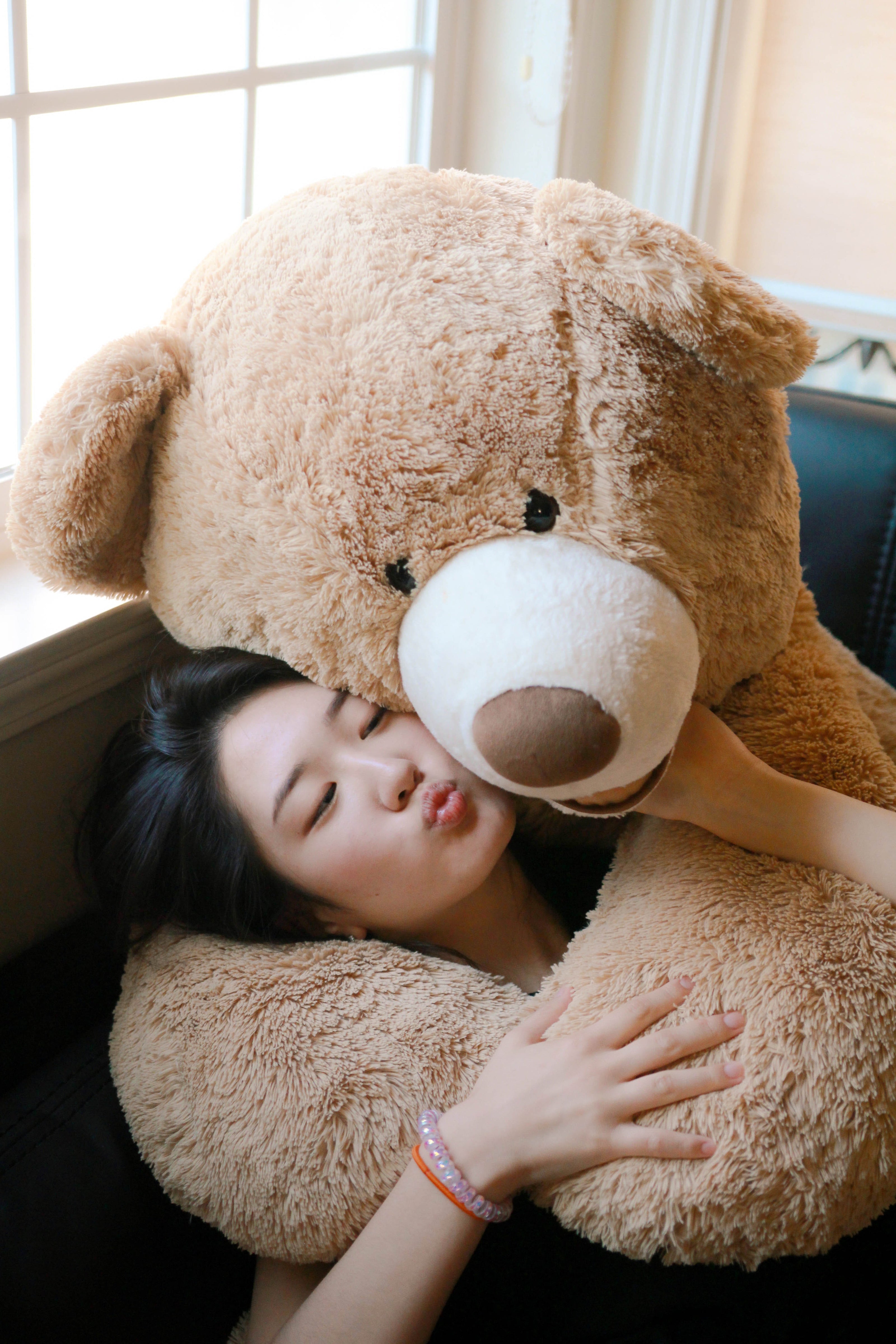 At Goodlifebean, we make the cuddliest, cutest, and biggest Giant Teddy Bears around. Our giant teddy bears are perfect for kids and adults who love to snuggle up with a soft, fluffy companion. Made with the highest plush quality and crafted with care, our teddy bears are guaranteed to bring a smile to your face.
Multiple Size Options

We have a bear for every need from Giant 11ft bears to mini 20cm collectables, we make bears for everyone. Our teddy bears range from 3 to 6 feet, making them perfect for hugging and cuddling.
Perfect Gift

Looking for a gift that's sure to impress? Our Giant Teddy Bears make the perfect gift for birthdays, holidays, or any occasion. With their soft fur and adorable faces, they're sure to be a hit with anyone who loves cute and cuddly things.
Easy to Wash

To keep your teddy bear looking and feeling its best, we recommend spot cleaning with a damp cloth and mild detergent. If necessary, hand wash in cold water and air dry.
100% Satisfaction Rate

We know you will love the quality of our life-hacking gadgets. Here's just one reason why: We are a family owned team and we take great care of our customers. We never hide behind an automated email system that never quite gets back to you. If there is anything that hasn't met your expectations, let us know and we'll make it right.
Free Fast Shipping

We offer FREE Fast shipping at no additional cost. For expedited shipping options, please contact us directly.
4 Good Reasons To Try Us
Handpicked

We have handpicked creative, original gifts and experiences that go beyond the ordinary.

24/7 Support

Have a question? Don't worry we are here to help ALWAYS.

Secured Payments

All payments are secured and encrypted via PayPal. Also, we accept all major debit and credit cards.

Secured SSL Certificate

We have a secured SSL Ceriticate to protect your information from hackers or spams. All payments are secured and encrypted via PayPal so we DON'T store any important information.
Indulge in comfort and style with our curated collection of warm slippers for women. From classic teddy bears to playful sharks and adorable astronauts, these slippers are designed to make...

Indulge in comfort and style with our curated collection of warm slippers for women. From classic teddy bears to playful sharks and adorable astronauts, these slippers are designed to make...