Regular price
Sale price
$39.99 USD
Unit price
per
Sale
Sold out
Everyone loves a big cuddly bear! 
Fall in love with someone you truly cannot get enough of... Our 11 ft tall REAL GIANT Bear- is the WORLDS LARGEST available so far. Place easily in the corner of your living room, on your favorite couch, in the den, office, or children's playroom.  Our GIANT Teddy bears with a big nose and you will be very happy with its companion.

READ 5 Benefits of Cuddling With A Life Size Teddy Before Bedtime
More Reasons To Cuddle With 11ft Teddy Bear


Warmth and Sweetness: This huge gift radiates warmth and sweetness, making it the ultimate delight.

Perfect Companion: The adorable and gigantic teddy bear is the perfect companion for your outings with your loved ones.

Irresistibly Cute: Your loved one won't be able to resist this massive and cuddly bear - it's truly irresistible.

Unique Like You: Each teddy bear is unique, just like you are.



Tailored to Your Life: If you're seeking a gift that perfectly matches your life, look no further than our Life-Sized Teddy Bear.

Various Options: Choose from our range of options, including 2-foot and 11-foot life-sized bears, to find the ideal one for your loved one or special occasion.

World's Largest Teddy Bear: Experience the joy of owning the world's largest Teddy bear - an opportunity to make unforgettable memories.
Transform your gift-giving experience with the warmth, cuteness, and uniqueness of our Giant Teddy Bear. It's not just a toy; it's a cherished companion for your loved ones!
Package Includes:
1* World's Largest Teddy Bear (stuffing not included)


Size Guide
| | | |
| --- | --- | --- |
| cm | inches | feet |
| 80 | 31.496 | 2.625 |
| 100 | 39.37 | 3.281 |
| 130 | 51.181 | 4.265 |
| 160 | 62.992 | 5.249 |
| 200 | 78.74 | 6.562 |
| 260 | 102.362 | 8.531 |
| 340 | 133.858 | 11.155 |

Tips To Clean And Care For A Giant Teddy Bear

-Avoid pulling or tugging on the teddy bear's fur, as it may cause shedding or matting.

Gently spot clean any surface stains using a mild detergent and a soft cloth. Remember, bears don't like harsh chemicals!

If your Giant Teddy bear takes an unexpected dive into a puddle of mischief, allow it to air dry naturally. Avoid using a hairdryer or exposing it to direct sunlight, as this may affect its fluffiness.



 Fluff Maintenance 101
Give your plushie a loving fluff by gently patting or shaking it. This will help restore its cloud-like appearance after extended cuddle sessions.

If your beloved bear starts looking a little sad, try gently brushing its fur using a soft-bristle brush or your fingers. Fluff it up like a pro stylist!
How To Store Your Life-Sized Teddy Bear?
When it's time to say goodnight, find a cozy spot for your cuddly bear Plushie. Avoid placing it near heaters, vents, or anything that could cause excessive heat or humidity.

If you need to store your plushie for an extended period, make sure it's in a clean, dry place. Consider placing it in a breathable bag or container to protect it from dust and other potential hazards.
Remember, your giant bear deserves all the care and attention in the world. By following these simple care instructions, you can ensure a long and fluffy friendship with your beloved plushie. So snuggle up, enjoy the softness, and let the huggable happiness fill your days and nights!
To maintain your giant teddy bear's beauty and longevity, follow these simple care guidelines:
Surface Cleaning: Use a soft-bristle brush or cloth to remove loose dirt and debris.

Spot Cleaning: Address stains quickly with a mild detergent or stain remover on a clean cloth. Gently blot the area.

Hand Washing: For a thorough clean, fill a basin with lukewarm water and gentle detergent. Immerse the bear, agitate gently, and focus on heavily soiled spots.

Rinsing: Rinse the bear thoroughly to remove soap residue, without twisting or wringing.

Drying: Squeeze out excess water, reshape the bear, and lay it on a clean towel. Let it air dry away from direct sunlight or heat sources.

Brushing and Fluffing: Once dry, use a soft-bristle brush to restore the bear's fluffiness.
Follow these steps to keep your giant teddy bear clean, fresh, and ready for cuddles for years to come.



Coat (Re)Stuffing Recommendations:
3.25ft. Requires 2.2lbs of Poly-Fil
4.25ft. Requires 5lbs of Poly-Fil
5.25ft. Requires 9lbs of Poly-Fil
6.5ft. Requires 18lbs of Poly-Fil
8.5ft. Requires 32lbs of Poly-Fil
11.15ft. Requires 44lbs of Poly-Fil
Share
View full details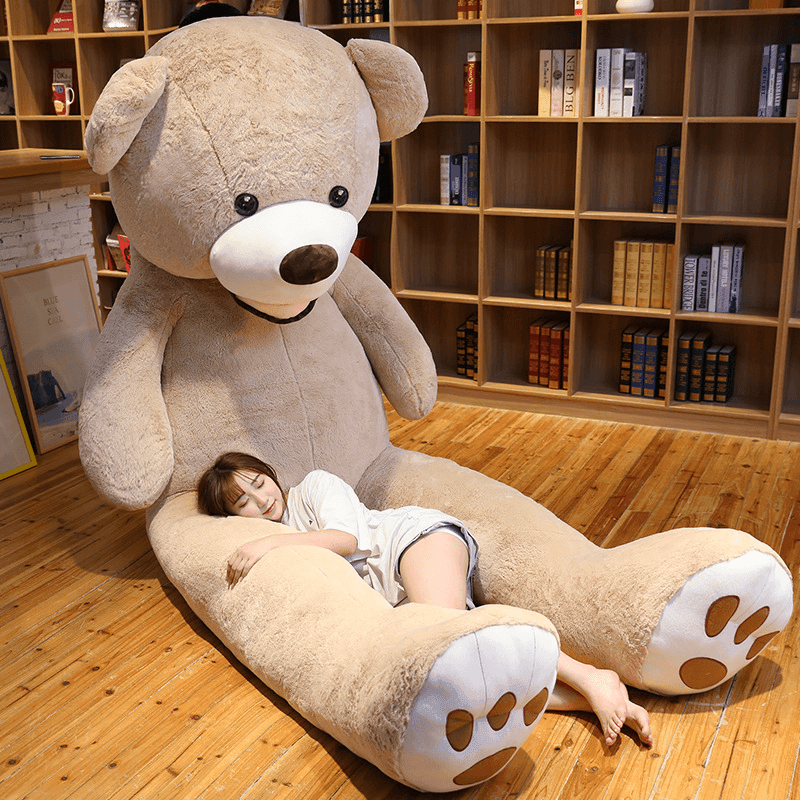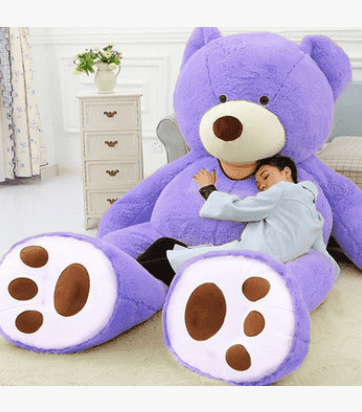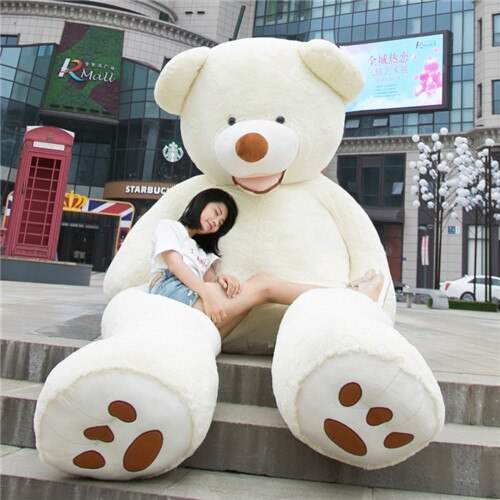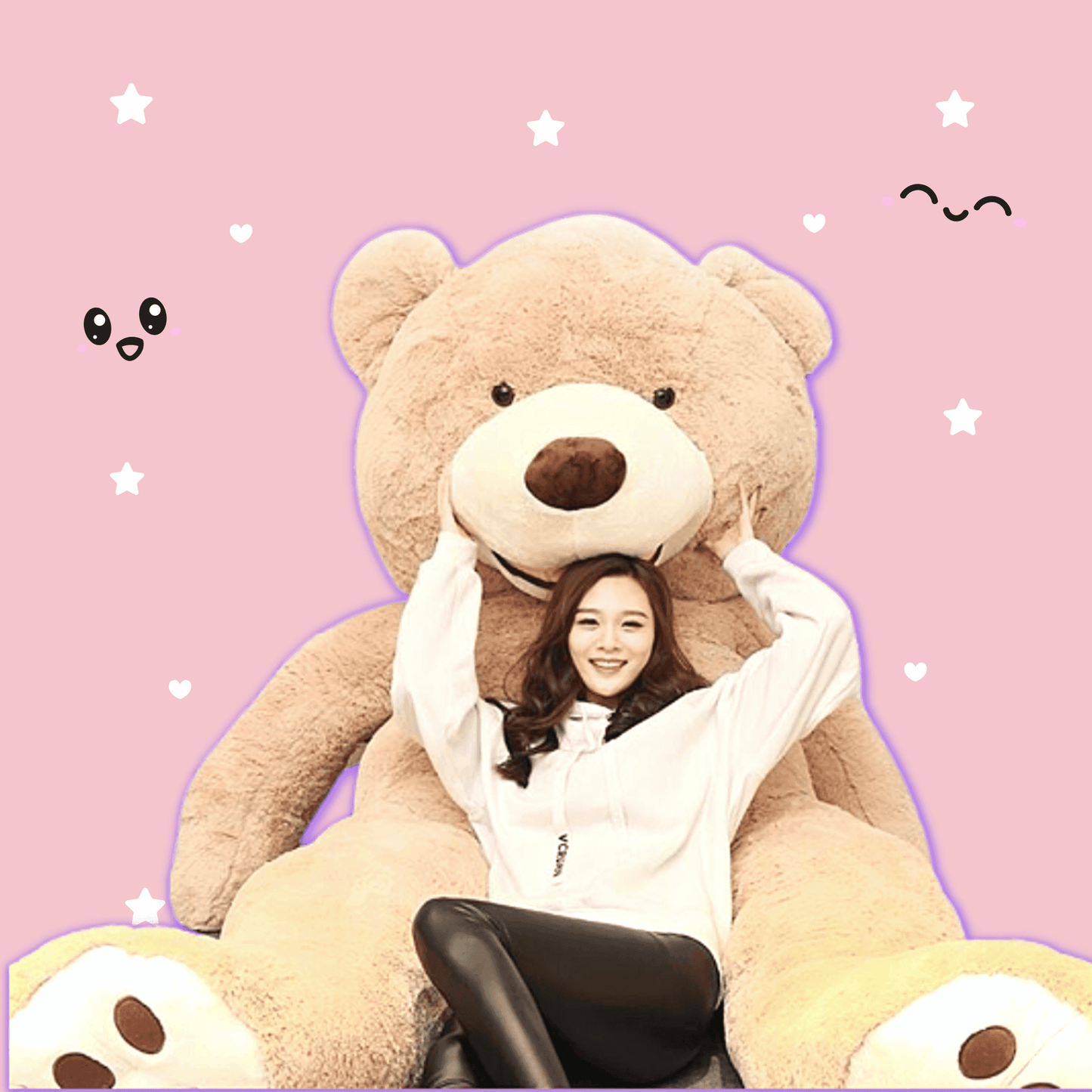 Meet Your New Furry Best Friend
What Makes Our Teddy Bears So Special?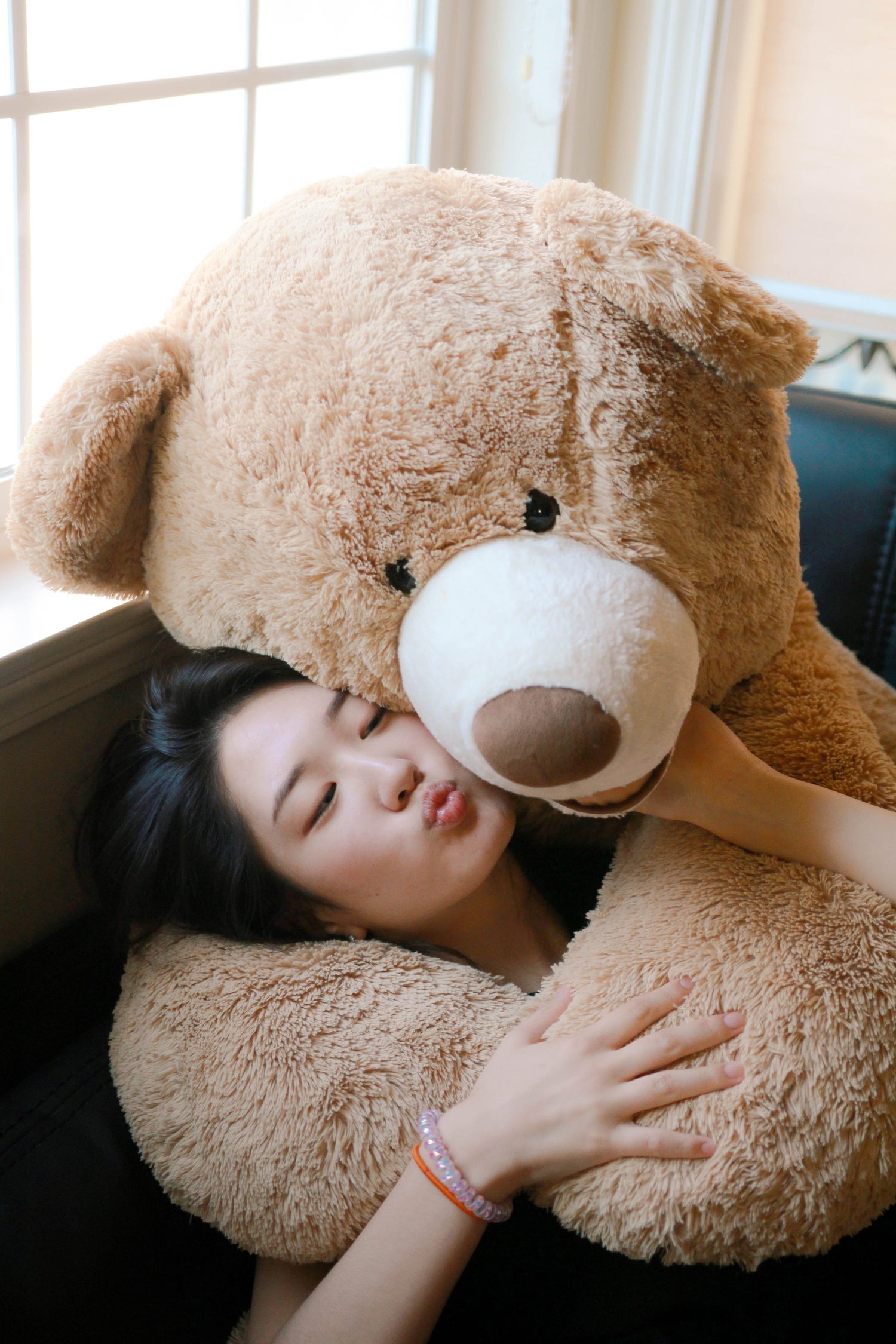 At Goodlifebean, we make the cuddliest, cutest, and biggest Giant Teddy Bears around. Our giant teddy bears are perfect for kids and adults who love to snuggle up with a soft, fluffy companion. Made with the highest plush quality and crafted with care, our teddy bears are guaranteed to bring a smile to your face.
Multiple Size Options

We have a bear for every need from Giant 11ft bears to mini 20cm collectables, we make bears for everyone. Our teddy bears range from 3 to 6 feet, making them perfect for hugging and cuddling.
Perfect Gift

Looking for a gift that's sure to impress? Our Giant Teddy Bears make the perfect gift for birthdays, holidays, or any occasion. With their soft fur and adorable faces, they're sure to be a hit with anyone who loves cute and cuddly things.
Easy to Wash

To keep your teddy bear looking and feeling its best, we recommend spot cleaning with a damp cloth and mild detergent. If necessary, hand wash in cold water and air dry.
100% Satisfaction Rate

We know you will love the quality of our life-hacking gadgets. Here's just one reason why: We are a family owned team and we take great care of our customers. We never hide behind an automated email system that never quite gets back to you. If there is anything that hasn't met your expectations, let us know and we'll make it right.
Free Fast Shipping

We offer FREE Fast shipping at no additional cost. For expedited shipping options, please contact us directly.
4 Good Reasons To Try Us
Handpicked

We have handpicked creative, original gifts and experiences that go beyond the ordinary.

24/7 Support

Have a question? Don't worry we are here to help ALWAYS.

Secured Payments

All payments are secured and encrypted via PayPal. Also, we accept all major debit and credit cards.

Secured SSL Certificate

We have a secured SSL Ceriticate to protect your information from hackers or spams. All payments are secured and encrypted via PayPal so we DON'T store any important information.
Get ready to dive into the most sensational Christmas gift of 2023! The Cozy Sharkie™ Hooded Shark Blanket for Adults is not just an ordinary gift; it's a fin-tastic adventure...

Get ready to dive into the most sensational Christmas gift of 2023! The Cozy Sharkie™ Hooded Shark Blanket for Adults is not just an ordinary gift; it's a fin-tastic adventure...