Regular price
Sale price
$69.99 USD
Unit price
per
Sale
Sold out
Meet Binky: Jumbo Stuffed Bunny Plushie
Get ready to meet Binky, the Jumbo Stuffed Bunny Plushie that embodies everything you love about cute and kawaii plushies. With its irresistibly soft fur and adorable design, Binky is the epitome of cuddly companionship. Let's dive into the delightful features and benefits of this jumbo bunny plushie:
A Heartwarming Story
Binky the Bunny Plushie has a heartwarming story that adds charm to its already lovable nature. This fluffy companion was crafted with love and care, designed to bring joy and comfort to everyone it encounters. From the softest stuffed bunny to the super-sized jumbo bunny, Binky has become a symbol of warmth and affection.
Features That Melt Your Heart
Super Softness: Binky's fur is the softest you'll ever experience. Its plush material is carefully selected to provide a delightful touch that invites endless snuggles and cozy moments.

Cuteness Overload: With its adorable floppy ears, expressive eyes, and charming smile, Binky is the epitome of cuteness. It's the perfect companion for anyone who appreciates a bunny plush's sweet and innocent charm.
Benefits That Make a Difference
Endless Comfort: Binky is more than just a plush toy; it's a source of comfort and solace. Hugging this jumbo stuffed bunny brings a sense of calmness, reduces stress, and creates a feeling of security. Its softness provides a soothing touch, making it a perfect companion for both kids and adults.

Unforgettable Memories: Every plushie has a story, and Binky is no exception. From being a treasured childhood friend to a beloved gift from a loved one, Binky carries with it the potential to create unforgettable memories. It becomes a cherished part of your life, reminding you of the moments filled with joy and love.
Embrace the Magic of Binky: Jumbo Stuffed Bunny Plushie
Experience the enchantment of Binky, the Jumbo Stuffed Bunny Plushie, and let it become a precious addition to your life. Whether you're seeking the softest stuffed bunny to snuggle with or a jumbo bunny plushie to make a statement, Binky is here to fulfill your desires. Its irresistibly soft touch, heart-melting cuteness, and heartwarming story make it the perfect choice for anyone who appreciates the magic of a truly exceptional bunny plush.
Share
View full details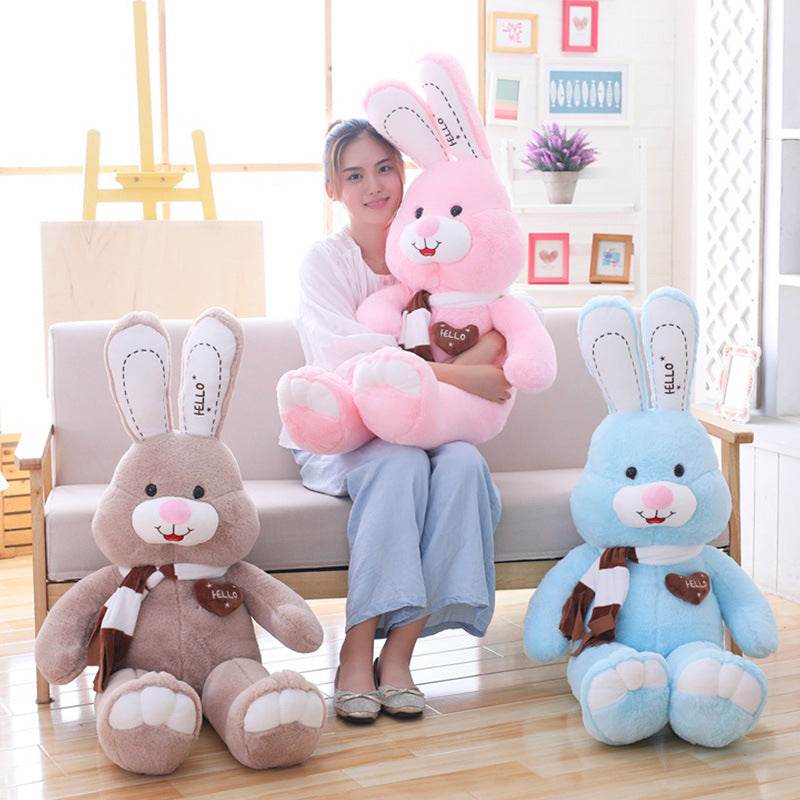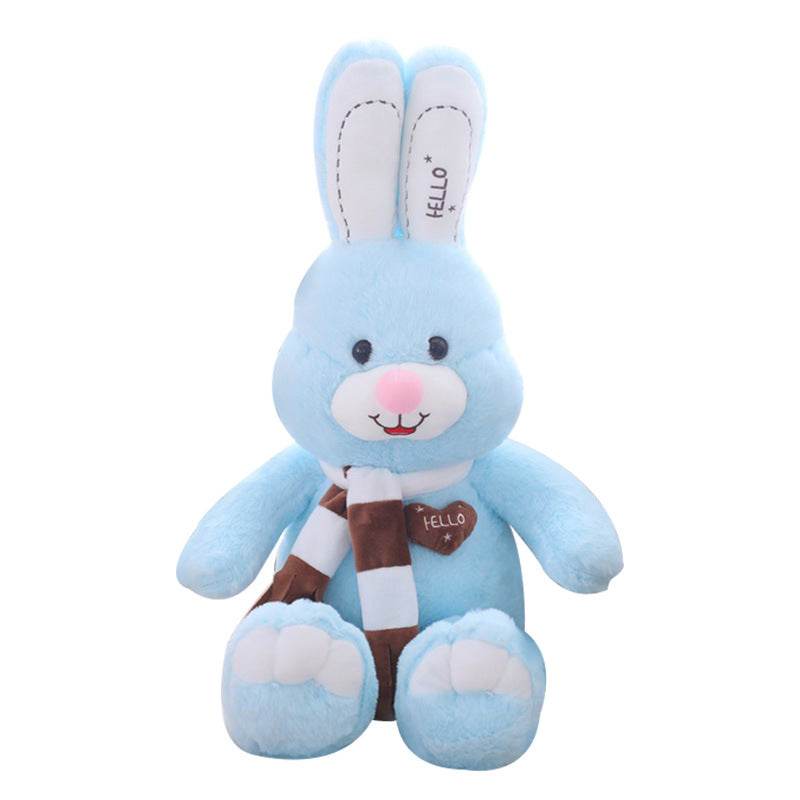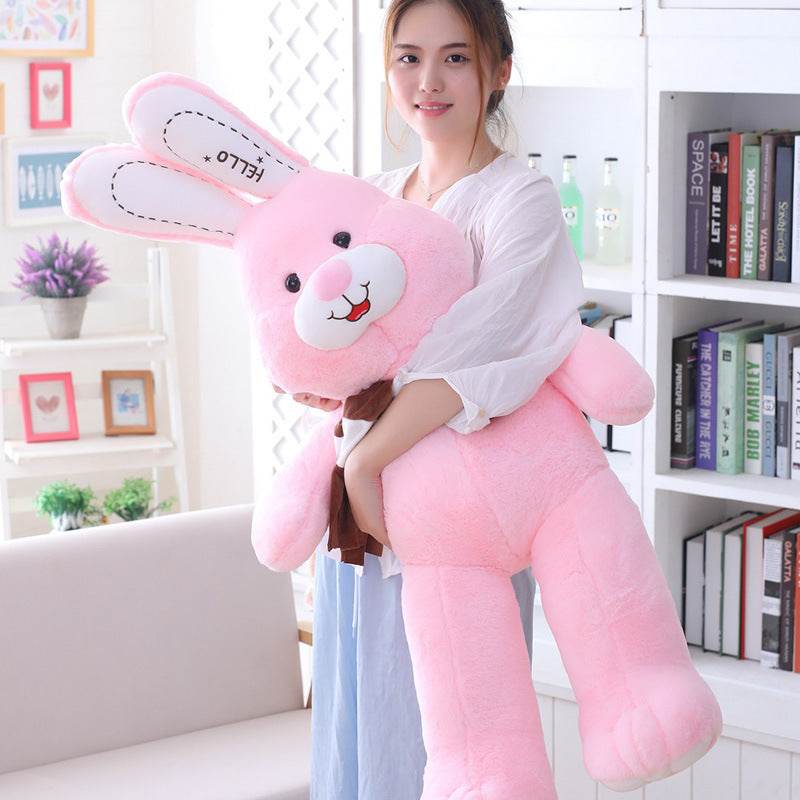 Why Do You NEED A Giant Plush?
Highlights

Provide details in each of the collapsible rows to give your customers the information they need to pick the best product.

Change the title and icon of each row to suit your brand.
Shipping And Delivery

Since our products are custom-made, our average average delivery time to most countries is 8-15 business days.

Shipping Times

Shipping time varies by location. These are our estimates:

| | |
| --- | --- |
| Location | *Estimated Shipping Time |
| United States | 8-14 Business days |
| Canada, Europe | 8-15 Business days |
| Australia, New Zealand | 8-15 Business days |
| Central & South America | 8-15 Business days |
| Asia | 8-15 Business days |
| Africa | 15-30 Business days |

 

Max delivery time – 30 business days.

*This doesn't include our processing time.

*All shipping times exclude clearance/customs delays*


IS SHIPPING FREE?

Shipping is free WORLDWIDE. We proudly ship from The United States of America, Spain, France, Germany, Australia and many other countries.

WHY IS MY ORDER BEING SHIPPED IN DIFFERENT PACKAGES?

If you have a multi-item order, each item may be shipped from a different international warehouse, depending on which one has them available the fastest. Alternatively, if an item is popular and on a bit of a back order, we might ship your items at different times, in different packages, to prevent holding up your order and to get it to you as fast as possible! 

International Shipping

Unless there are exceptional circumstances, we make every effort to fulfill your order within 8-14 business days from the date of your order. Business day mean Monday to Friday, except holidays.

Please note we do not ship on Sundays.

Date of delivery may vary due to carrier shipping practices, delivery location, method of delivery, and the items ordered. Products may also be delivered in separate shipments.

WHEN WILL I RECEIVE MY ORDER?

Orders are shipped out directly from any of our many domestic & international warehouses and they will do everything they can to get you your order as fast as they can! Due to the popularity of our offers, please allow 8-14  business days for your order to be delivered in the USA (varies from product to product). Other countries can take an estimated 8-30 business days 

(varies from product to product)

 due to distance travelling and customs. Please note, that due to the extreme popularity of our offers, these are only estimates.

WHAT HAPPENS IF MY ORDER GETS STUCK OR LOST IN THE MAIL?

All of our orders are sent with insured shipping and handling. If an order gets stuck at customs, sent back or even lost during the delivery process, we apologize! The postal service is out of our control. However, in cases like this, because the packages are insured, we will send you a new package with quicker shipping and full tracking, if possible. Please see our refund and return policy for when these might be applicable to shipping situations.

WILL I BE CHARGED FOR CUSTOMS AND TAXES?

No, you will not be charged anything extra than what you've already paid. Our products are inclusive of all costs

COVID-19 Delivery Update

Dear Customers,


This is a difficult time for everyone and we're working hard to adapt to this new reality. We are continuing to fulfil as many orders as we can at our facilities. Our US fulfilment facility are operating as normal while following country's public health guidelines. Our branches in South Asian and European warehouses are facing some delays in fulfilment and delivery. 

We have clearly stated on all product pages if Express shipping is available or not. Products dispatched from our US warehouses are NOT impacted by COVID-19 Pandemic.


On behalf of everyone at 

Goodlifebean.com

 We sincerely hope you and your loved ones are safe and healthy at this time. We want to thank you for shopping with

Goodlifebean.com

We believe in being completely transparent with our customers, this is why we want to inform you that your order might be delayed. Borders around the world are closed, most countries have shut down their public lives. 

We have noticed an increase in delays both domestically and internationally due to the global pandemic happening now. The border control is affecting international countries and the domestic highway trucking weigh stations are checking drivers for symptoms of the virus. This has contributed to the overall increase in delivery tim

e.

 The entire industry is grappling with new challenges during these unprecedented times, as are we being a part of the society. 

Keeping our employees safe while serving our customers is our top priority. Rest assured, we are working very hard to deliver your order as soon as possible while caring for the health and safety of our logistics partners. 

Our fulfilment times will be longer than usual, and may continue to increase until things get back to normal. The entire industry is grappling with challenges and we're seeing delays in our supply chain, including distributors and shipping carriers.
We promise you, everyone is working hard to fulfil your needs and to adapt to this extraordinary situation.  We apologize for this incident and to serve you better we are constantly working with our logistics team to get this sorted at the earliest.  

We seek your patience and understanding and wish to thank you for shopping with us at

 Goodlifebean.com

 

Please do not hesitate to reach us out via Contact US form.
Plush Care

Our Giant plushies are easier to care for than most stuffed animals. To clean your stuffed animal, you can use a lint roller to remove excess lint and hair. Alternatively,you can use mild detergentand a soft brush or cloth. Finally, if the toy is stained or dirty enough to warrant it, you can also wash it in the washing machine on a gentle cycle at 30 degrees Celsius (86 Fahrenheit). Checkout our complete Plush care guide Here
Feature a compelling customer review about your product or brand.
Multicolumn

Use a combination of images and text to share information about this product, and your brand.

Multicolumn

Consider adding information about your shipping and return policies.

Multicolumn

Consider highlighting your environmental commitments.

Multicolumn

Consider describing a money-back guarantee or highlighting your customer service.
Introduce other complementary products.
DESCRIBE HOW TO PAIR PRODUCTS TOGETHER