Regular price
Sale price
$49.99 USD
Unit price
per
Sale
Sold out
Kawaii Angelic Nursery Decor Teddy Bear
Creating Memories with Kawaii Angelic Nursery Decor Teddy Bear
Do you believe in the power of cuddles and secrets? Our Kawaii Angelic Teddy Bear is more than just a plushie; it's a companion that holds the key to countless memories. With its adorable design and charming presence, this cute teddy bear brings warmth and joy to any nursery. Let us share with you why our Giant Plushies have been symbols of love since immemorial.
Excellent Cuddlers and Secret Keepers
Nothing compares to the comfort of hugging a giant plushie tightly. Our Angelic Teddy Bear is expertly crafted to be an excellent cuddler, providing a soft and huggable companion whenever you need it. It understands your need for warmth, comfort, and a shoulder to lean on during happy and challenging times.
Moreover, this teddy bear is not just a cuddle buddy; it's a secret keeper. With its enchanting eyes and gentle smile, it becomes a confidant for your little one's dreams, hopes, and fears. Every secret shared with this adorable plushie becomes a cherished memory, fostering a sense of trust and security.
Makes Cute Nursery Decor
Beyond its cuddling capabilities, our Kawaii Angelic Teddy Bear is a stunning addition to any nursery decor. Its angelic wings and cute features create a whimsical atmosphere, transforming the room into a magical sanctuary. The perfect fit for various nursery themes.
Imagine the delight on your child's face when they wake up to this charming teddy bear perched on the shelf or nestled among their favorite toys. It adds an extra touch of joy and enchantment to their surroundings, making every moment spent in the nursery an adventure.
Why Do Kids and Adults LOVE Our Giant Plushies?
Giant Plushies have always held a special place in our hearts, symbolizing the power of love and the memories we create. Each teddy bear carries a story, a memory that becomes an integral part of its existence. It may be a love story, a breakup story, a special bear gifted by a friend, or a care bear that brought comfort during sickness.
When you embrace our cute Teddy Bears, you become part of this beautiful tradition. Your child will create their own stories, crafting memories that will last a lifetime. This plushie becomes a companion in their adventures, a confidant in their dreams, and a symbol of love that they'll cherish for years to come.
How to Wash Your Cute Teddy Bear
Your adorable Kawaii Angelic Teddy Bear deserves to stay clean and fresh, ready for endless cuddles. Follow these simple steps to keep your cute plushie looking its best:
Gentle Hand Wash: Fill a basin or sink with lukewarm water and add a mild detergent suitable for delicate fabrics. Immerse your teddy bear in soapy water and gently massage it to remove any dirt or stains. Pay extra attention to heavily soiled areas.

Rinse Thoroughly: Once you've cleaned your plushie, rinse it thoroughly under cool running water. Squeeze it gently to remove excess water, but avoid wringing or twisting, as this can damage the stuffing or shape of the bear.

Air Drying: Lay a clean towel on a flat surface and place your teddy bear on top of it. Gently reshape it if needed. Allow your plushie to air dry naturally, avoiding direct sunlight or heat sources that could cause color fading or shrinkage.

Fluff and Brush: Once your Kawaii Angelic Teddy Bear is completely dry, give it a little fluff to restore its softness and volume. Use a soft-bristled brush or a clean, dry cloth to gently brush its fur in the direction of the nap, bringing out its natural fluffiness.
Remember, it's essential to check the care instructions provided with your specific plushie. Some teddy bears may be machine washable or have additional care requirements. Always prioritize gentle handling to ensure your cute teddy bear remains in pristine condition for years to come.

Teddy Bear Size: 45/60CM
   
Share
View full details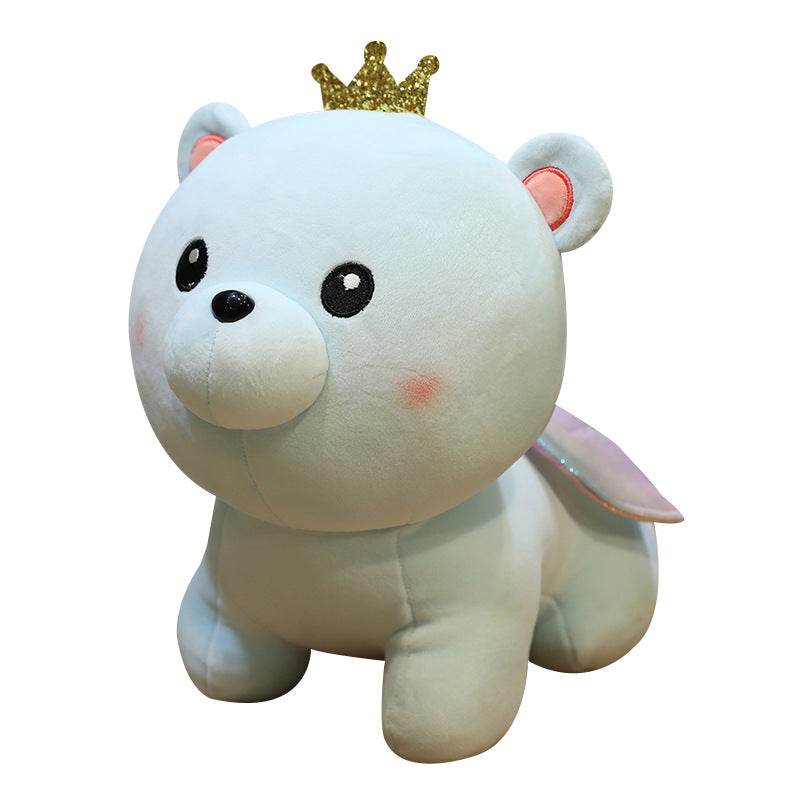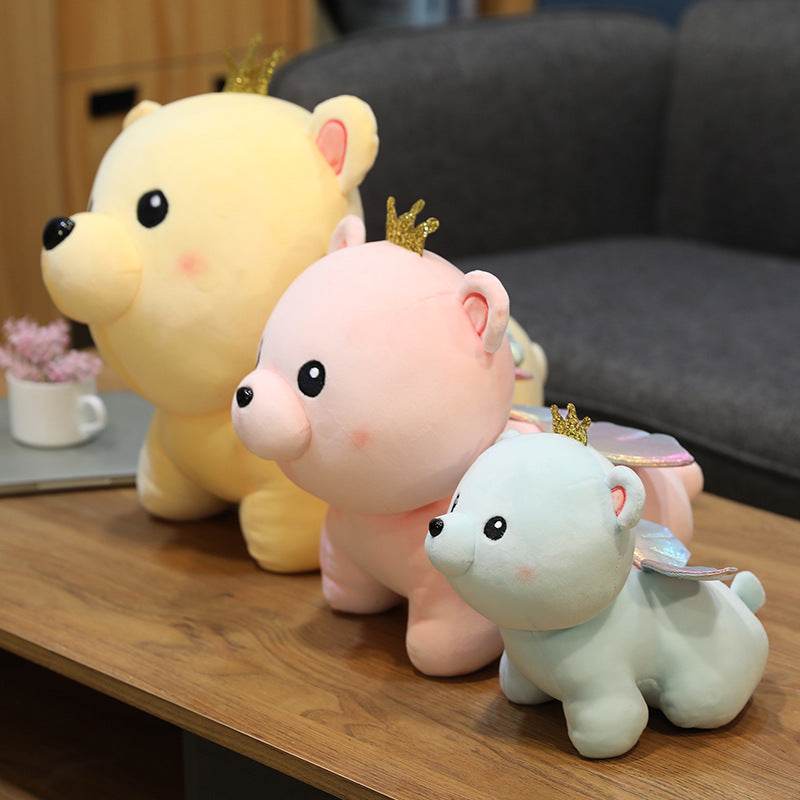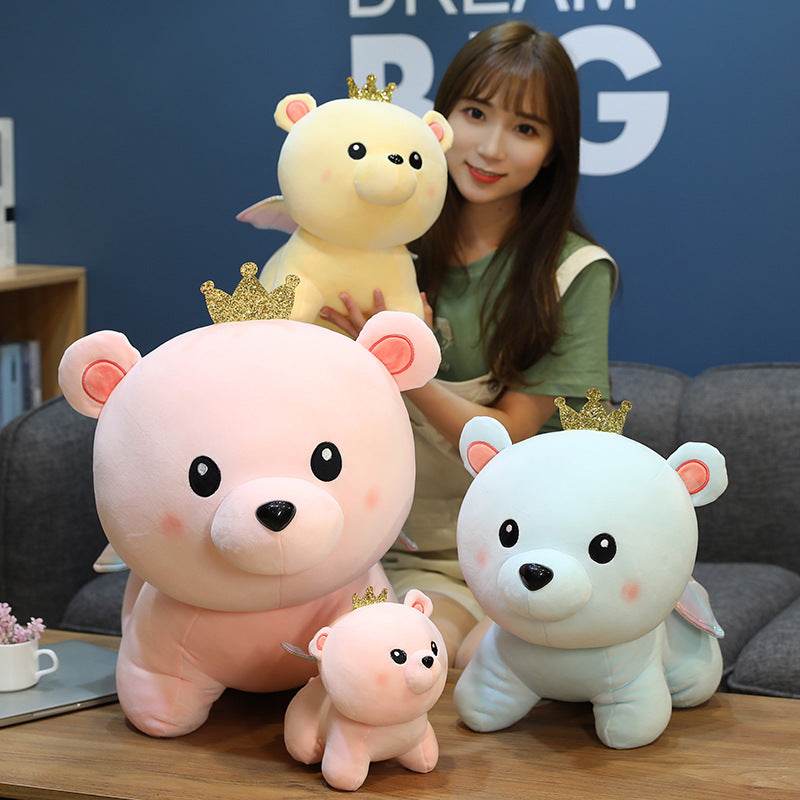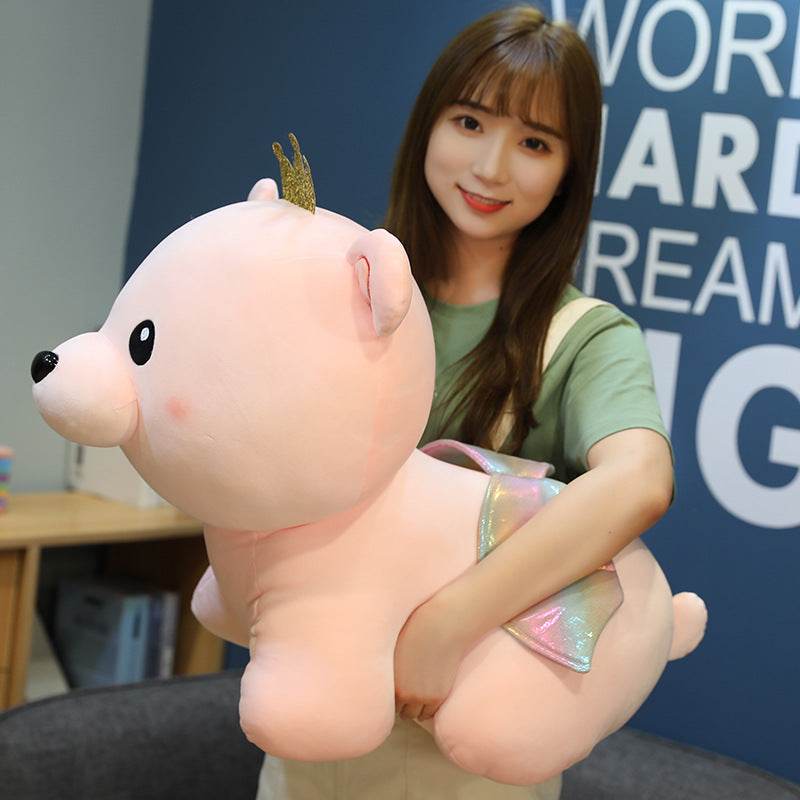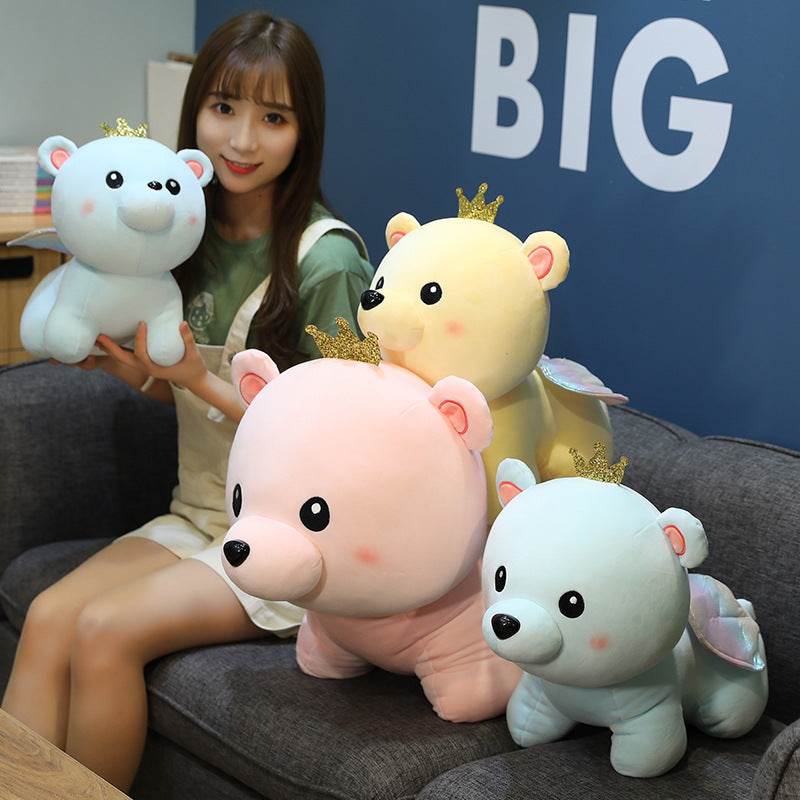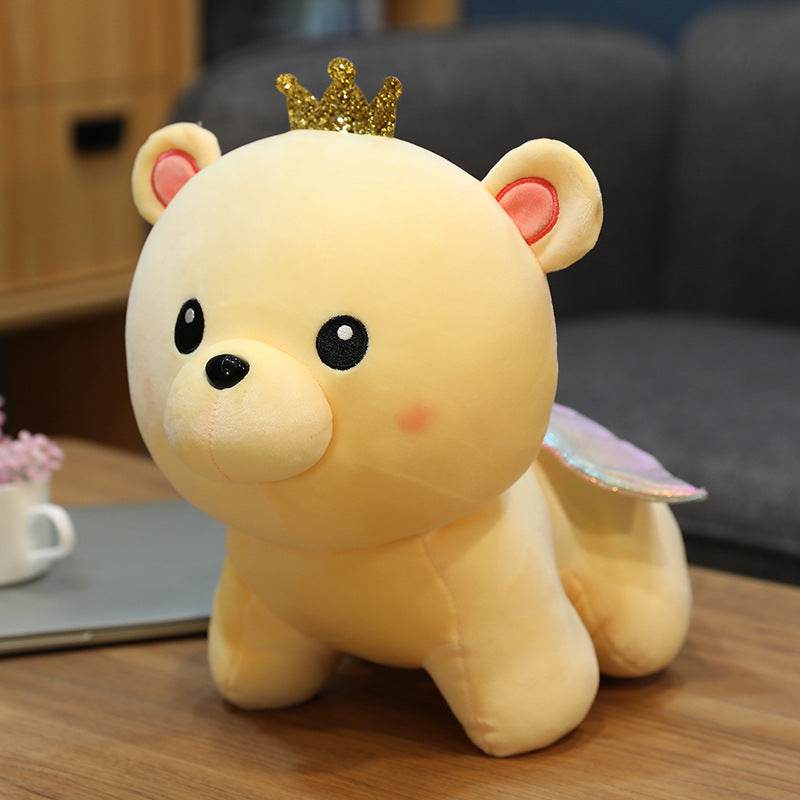 Meet Your New Furry Best Friend
What Makes Our Teddy Bears So Special?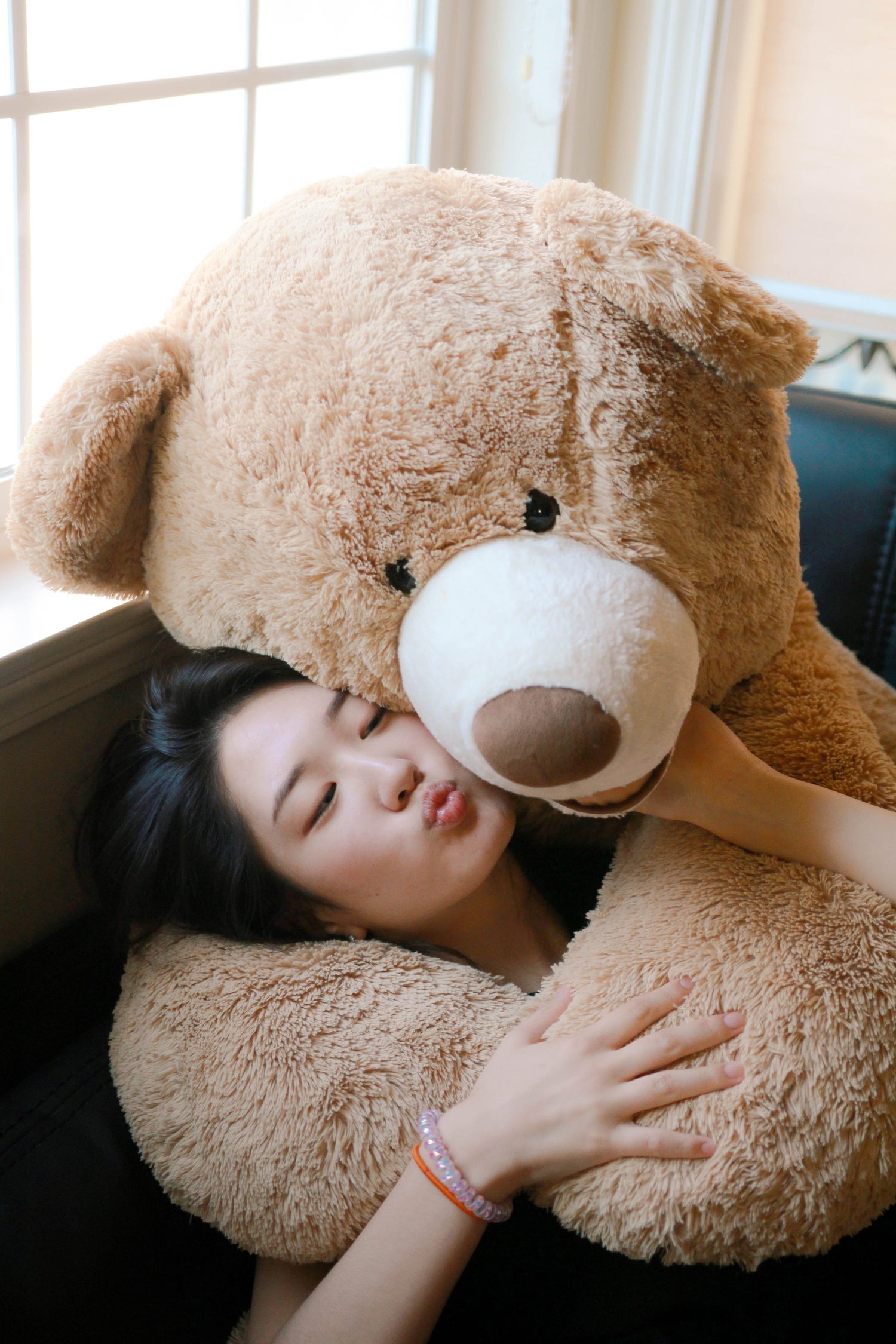 At Goodlifebean, we make the cuddliest, cutest, and biggest Giant Teddy Bears around. Our giant teddy bears are perfect for kids and adults who love to snuggle up with a soft, fluffy companion. Made with the highest plush quality and crafted with care, our teddy bears are guaranteed to bring a smile to your face.
Multiple Size Options

We have a bear for every need from Giant 11ft bears to mini 20cm collectables, we make bears for everyone. Our teddy bears range from 3 to 6 feet, making them perfect for hugging and cuddling.
Perfect Gift

Looking for a gift that's sure to impress? Our Giant Teddy Bears make the perfect gift for birthdays, holidays, or any occasion. With their soft fur and adorable faces, they're sure to be a hit with anyone who loves cute and cuddly things.
Easy to Wash

To keep your teddy bear looking and feeling its best, we recommend spot cleaning with a damp cloth and mild detergent. If necessary, hand wash in cold water and air dry.
100% Satisfaction Rate

We know you will love the quality of our life-hacking gadgets. Here's just one reason why: We are a family owned team and we take great care of our customers. We never hide behind an automated email system that never quite gets back to you. If there is anything that hasn't met your expectations, let us know and we'll make it right.
Free Fast Shipping

We offer FREE Fast shipping at no additional cost. For expedited shipping options, please contact us directly.
4 Good Reasons To Try Us
Handpicked

We have handpicked creative, original gifts and experiences that go beyond the ordinary.

24/7 Support

Have a question? Don't worry we are here to help ALWAYS.

Secured Payments

All payments are secured and encrypted via PayPal. Also, we accept all major debit and credit cards.

Secured SSL Certificate

We have a secured SSL Ceriticate to protect your information from hackers or spams. All payments are secured and encrypted via PayPal so we DON'T store any important information.
Prepare to embark on a fascinating journey through time as we delve into the enigmatic origins of stuffed animals. In this captivating exploration, we'll unveil the creative minds behind these...

Prepare to embark on a fascinating journey through time as we delve into the enigmatic origins of stuffed animals. In this captivating exploration, we'll unveil the creative minds behind these...