Regular price
Sale price
$36.99 USD
Unit price
per
Sale
Sold out
Meet Moody, Your Expressive Stuffed Cat
Introducing Moody, the stuffed cat with a range of emotions! With its whimsical facial expressions and adorable features, Moody is ready to capture your heart. From playful to contemplative, this expressive cat plushie is perfect for those who appreciate the charm and personality of feline companions. Get ready to embark on a delightful journey with Moody by your side.
Features 
1. Expressive Emotions: Moody is not your ordinary stuffed cat. It brings a whole new level of charm with its range of expressions. Whether you need a playful friend to brighten your day or a sympathetic listener during moments of contemplation, Moody's expressions will resonate with your mood and bring a sense of comfort.
2. Whimsical Decor Piece: Moody isn't just a plushie; it's also a whimsical decor piece. Place Moody on your bed, shelf, or desk, and instantly add a touch of personality and charm to any space. Let Moody's adorable presence inspire your creativity and bring a smile to your face every time you see it.
3. Perfect Gift for Cat Lovers: If you know someone who adores cats, Moody makes a purr-fect gift! Whether it's a birthday, holiday, or just a gesture of appreciation, Moody will make their heart melt with its expressive features and lovable design. It's a gift that truly captures the essence of feline companionship.
4. Snuggles and Companionship: Moody is a cuddly companion that understands your moods. Whether you're feeling happy, sad, or somewhere in between, Moody is there to provide warmth, comfort, and a listening ear. Enjoy endless snuggles and find solace in the presence of this lovable stuffed cat.
Are Giant Plushies Suitable Only for Children?
You might be wondering if cat plushies, especially giant ones, are exclusively meant for kids. The answer is a resounding no! While children certainly adore these adorable companions, giant plushies hold a special place in the hearts of people of all ages. Let's explore why giant plushies like Pancake are not just for kids.
Nostalgic Comfort for All Ages
Giant cat plushies evoke a sense of nostalgia and bring back cherished memories of childhood. However, they also provide a comforting presence that can alleviate stress, anxiety, and loneliness for adults too. Snuggling up with Pancake after a long day is a soothing and rejuvenating experience, regardless of age.
Stress Relief and Relaxation for Everyone
Life can be demanding and overwhelming at times, regardless of age. Giant cat plushies offer a therapeutic effect by providing a soft and huggable friend to lean on. Squeezing a plush squishy body can help release tension and promote relaxation for both kids and adults. It's a delightful way to unwind and find comfort in a hectic world.
Unique Collectibles with Sentimental Value
For some, giant cat plushies have become a collectible item, with each piece holding sentimental value and representing a unique character or design. Displaying Pancake alongside other cherished plushies can become a delightful hobby and a source of pride. It's a way to curate a personal collection that reflects your personality and brings joy every time you look at it.
Perfect Gifts for All Occasions
Giant cat plushies make extraordinary gifts for people of all ages. Whether you want to surprise your partner, cheer up a friend, or bring comfort to an elderly loved one, Moody Mittens will bring a smile to their face and remind them of your thoughtfulness. The joy and love that a giant plushie-like cat conveys are universal, making it a perfect gift choice for anyone.
How to Clean Your Cat Plushie?
To keep Moody looking its best, follow these simple care instructions:

1. Gentle Spot Cleaning: If Moody gets a little dirty, gently spot-clean the affected area using mild soap and a soft cloth. Avoid using harsh chemicals or rubbing vigorously, as it may damage the plushie's delicate features. Allow Moody to air dry naturally.
2. Displaying Moody: When not in your arms, give Moody a special place to rest. Find a clean and dry spot where it can be displayed or stored safely. Avoid exposing Moody to direct sunlight for extended periods to prevent color fading. Keep Moody away from sharp objects or rough surfaces that may damage its appearance.
Share
View full details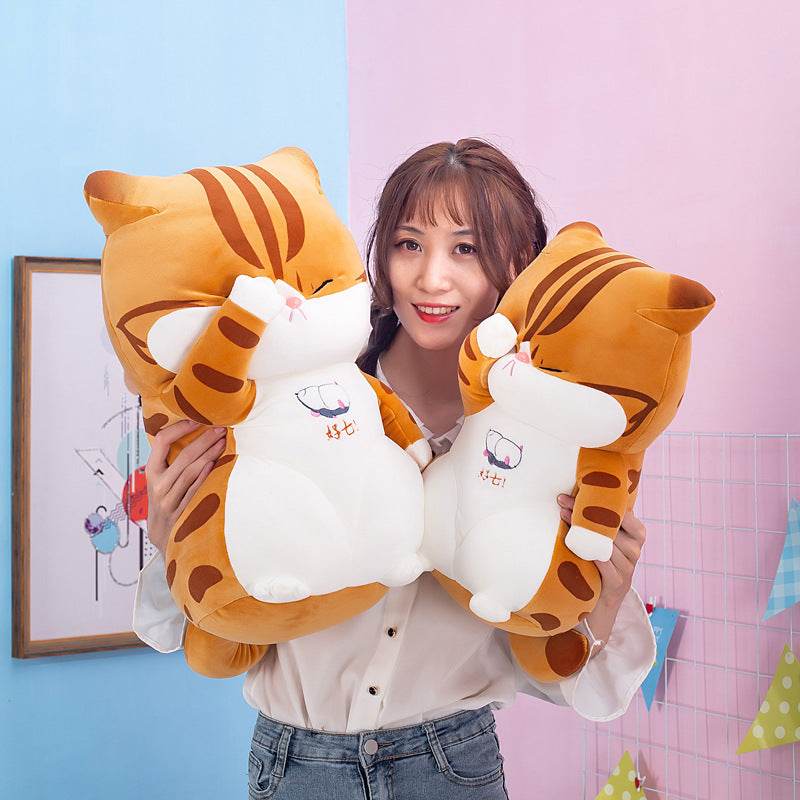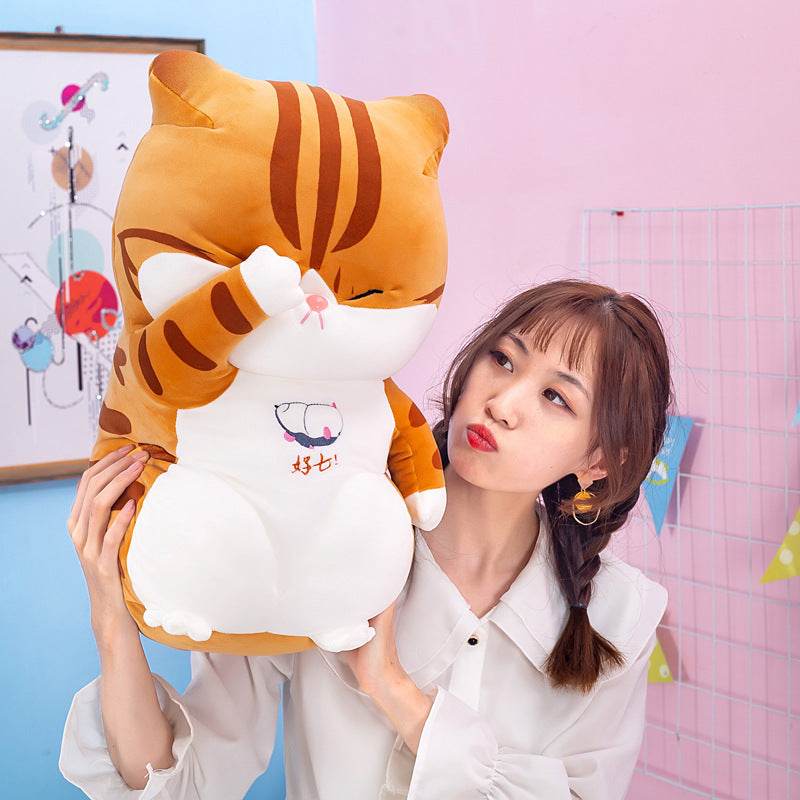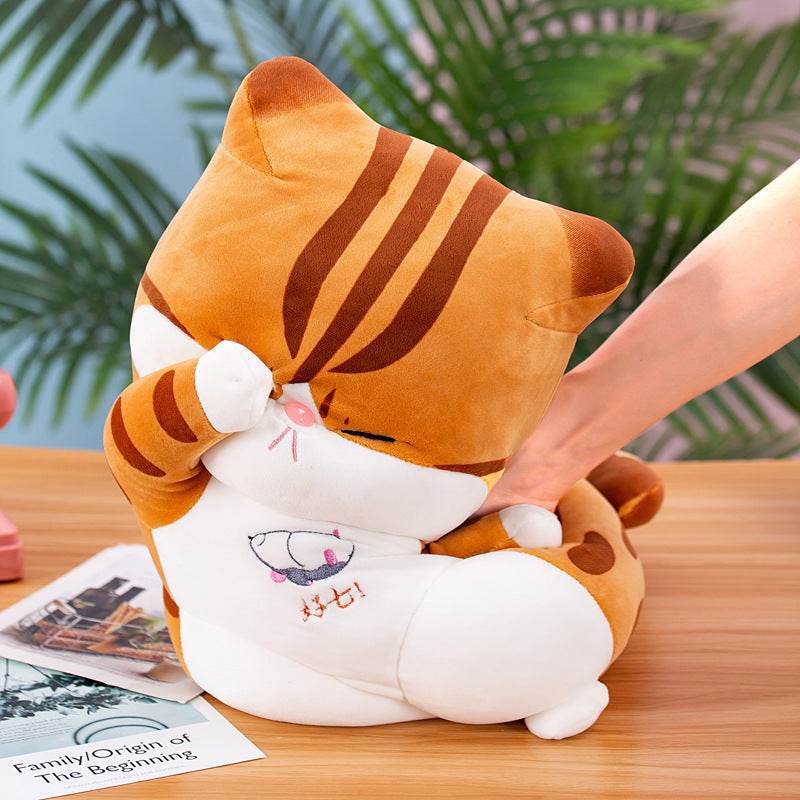 Cuddle up with the cutest Cat Plushies and unleash your inner Cat Mom!
Cutest Cat Plushies
Welcome to our purrfect collection of cat plushies! Our giant stuffed cats and cat plush toys are the perfect addition to any cat lover's collection. Whether you're looking for a cuddly companion or a unique gift, we've got you covered. Each of our plushies is made with love and care, ensuring that they are as soft and adorable as can be. So, let's dive into our collection of feline friends!
5 Purrfect Reasons to Cuddle Your Cat Plushie
Instant mood booster

Whether you're living alone or simply feeling lonely, your Cat Plushie can be a comforting presence. It can fill the void of companionship and provide a sense of belonging. Snuggle up with your Plushie and feel its warmth and love.
Ultimate comfort provider

Your Cat Plushie is more than just a toy – it's a source of comfort and security. Hug it close and feel its softness against your skin. Its gentle presence can help you feel safe, loved, and protected.
Your Personal Stress-Reliever

Life can be stressful, but your Cat Plushie is always there to provide comfort and calm. Whether you're snuggling up with it after a long day or simply holding it during
A Companion that Listens

Sometimes we just need someone to talk to, and your Cat Plushie is always ready to listen. Pour your heart out to this furry friend and feel the weight lift off your shoulders.
A Reminder of Your Inner Child

As adults, we often forget the simple joys of life. But your Cat Plushie can be a reminder of the joy and wonder we felt as children. Embrace your inner child and enjoy the fun and playfulness that comes with your adorable, Kawaii-inspired Cat Plushie.
Give a Forever Home to Our Cat Plushie
By adopting one of our giant Cat Plushies, you'll not only be bringing home a new cuddly companion, but you'll also be giving it a forever home where it will be loved and cherished. Imagine the joy on your face as you hold your new Giant Cat Plushie in your arms and feel its warmth and softness against your skin.
Adopt A Cat Plushie
5 Good Reasons To Try Us
Handpicked

We have handpicked creative, original gifts and experiences that go beyond the ordinary.

Free Insured Shipping

All packages are carefully secured insured before shipping. Enjoy free shipping with easy exchange.

24/7 Support

Have a question? Don't worry we are here to help ALWAYS.

Secured Payments

All payments are secured and encrypted via PayPal. Also, we accept all major debit and credit cards.

Secured SSL Certificate

We have a secured SSL Ceriticate to protect your information from hackers or spams. All payments are secured and encrypted via PayPal.
Get ready to dive into the most sensational Christmas gift of 2023! The Cozy Sharkie™ Hooded Shark Blanket for Adults is not just an ordinary gift; it's a fin-tastic adventure...

Get ready to dive into the most sensational Christmas gift of 2023! The Cozy Sharkie™ Hooded Shark Blanket for Adults is not just an ordinary gift; it's a fin-tastic adventure...